Why Does My Thermostat Click When It Comes On?
All thermostats make a clicking noise when activating the heating or cooling system. The noise does not mean that you have a problem, and it should not be very loud. Sensitivity to noise varies among individuals as well, and the sound might be more noticeable to you than to others. If you've moved into a new home, the specific noise made by that thermostat might also sound different to you.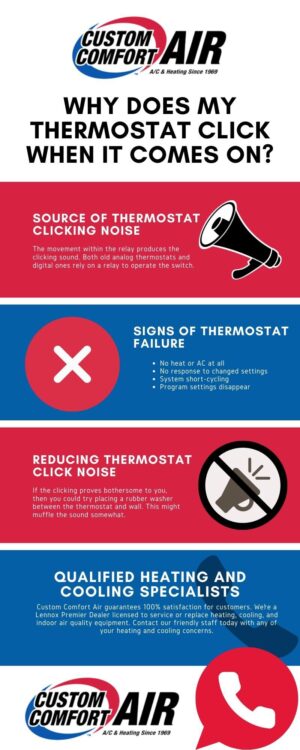 Source of Thermostat Clicking Noise
A relay device within any thermostat activates the switch that turns the heat or air conditioning on or off. This is a mechanical component that uses an electromagnet to physically connect the switch. The movement within the relay produces the clicking sound. Both old analog thermostats and digital ones rely on a relay to operate the switch.
Signs of Thermostat Failure
Although the click is completely normal, some other symptoms that could be signs your thermostat is breaking down include:
No heat or AC at all
No response to changed settings
System short-cycling
Program settings disappear
Troubleshooting problems with heat or air conditioning starts with checking the thermostat. Technicians from Custom Comfort Air in Rosenberg, TX, will perform thorough diagnostics when evaluating your heat or AC for problems. We work on all makes and models and welcome the opportunity to address jobs large or small.
Reducing Thermostat Click Noise
If the clicking proves bothersome to you, then you could try placing a rubber washer between the thermostat and wall. This might muffle the sound somewhat. You could try installing a new thermostat in the hope that its click will be quieter. A high ceiling over the thermostat might amplify the click sound. Moving the thermostat to a different room where its noise won't trouble you is also an option.
Qualified Heating and Cooling Specialists
Custom Comfort Air guarantees 100% satisfaction for customers. We're a Lennox Premier Dealer licensed to service or replace heating, cooling, and indoor air quality equipment. Contact our friendly staff today with any of your heating and cooling concerns.