3 Benefits of Routine AC Maintenance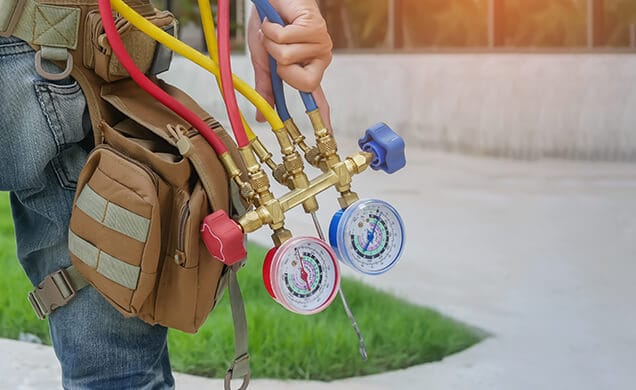 Do you want your AC to break down on a sweltering day? We think not. This is one reason why routine maintenance is recommended. However, there are a few less obvious advantages to sticking to a maintenance schedule and taking time to address dirty filters and more.
1. Reduce the Potential for Air Conditioner Failure
As mentioned above, not taking care of the various components of an air conditioner can put unnecessary stress on the system, making it work harder to keep you cool. Optimal functioning is ensured when all components are kept in good condition. If you have a car, you would get the oil and filter changed as suggested by the manufacturer to keep it in good working order. The same approach goes for your AC. Cleaning or replacing the air filter and checking on the condition of other easily observable components are recommended in order to help make sure your AC continues to perform as designed.
2. Get More Life from Your Air Conditioner
When components are not maintained as intended, the entire system often has to work harder. This can lead to premature replacement of the complete unit or system. According to the U.S. Department of Energy, a dirty air coil or filter which is not cleaned can impair the ability of the system to work as intended and lead to premature failure of certain parts. As it can be expensive to repair or replace a central air conditioner system, homeowners who want to get maximum value from an existing unit would do well to regularly care for their AC.
Many Houston residents and homeowners prefer reducing out-of-pocket expenses by attending to the routine maintenance tasks needed to get great performance from their AC. Get guidance on common maintenance tasks from your trusted Custom Comfort Air services specialist.
3. Improve Air Quality in Your Home
A clean filter and other internal components can help occupants of a home enjoy the better quality air. Aside from dirt, mold can grow within an AC, and mold spores can be easily spread throughout the home when an air conditioner is not routinely cleaned. Homeowners that do not want to increase their risk of developing a respiratory infection are urged to maintain their air conditioner and take steps to prevent mold growth.
Need Expert Advice?
Houston area residents are in luck when it comes to getting reputable assistance with AC Repair, AC Replacement, Precision Tune-Up, Indoor Air Quality Systems and more. Contact a Custom Comfort Air technician to schedule an appointment today.