Discover the Top 5 Smart Wi-Fi Thermostats for Your Home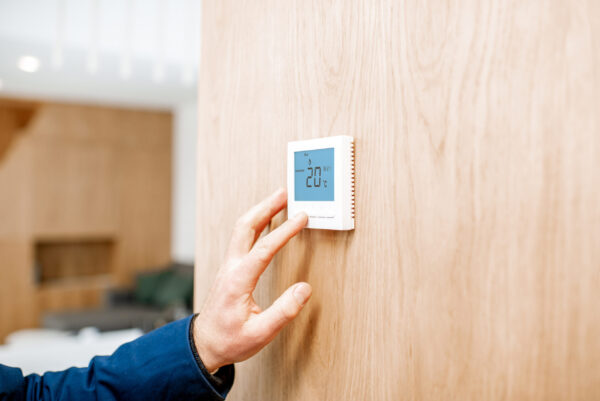 A smart Wi-Fi thermostat allows you to remotely control your home's heating and cooling system. These thermostats have a sophisticated appearance that looks great with any home decor, and they offer convenience and efficiency. You could even end up saving money on your monthly energy bill once you have one installed. You can use any internet-connected device, such as your phone or tablet, to control the settings, and they include a variety of features that make each brand and model unique.
Read on to learn about the top five smart Wi-Fi thermostats.
1. The iComfort S30 Ultra Smart Thermostat
The iComfort S30 Ultra Smart Thermostat uses Scheduled IQ Technology to easily adapt to any changes in your schedule or the weather so that your home is always comfortable. The Smart Away Mode uses your smartphone's location services to know when you're leaving the house and automatically switches the temperature to a more energy-efficient setting. It then automatically adjusts that temperature according to your pre-selected settings so that you never come home to a house that is too cold or too hot.
The One Touch Away Mode on this thermostat lets you override your regular settings in order to save even more energy. You'll also find that it doesn't rely solely on the temperature for your comfort. It takes into consideration the relative humidity, too. The Feels Like Setting uses both of these factors to create a temperature that feels perfect, regardless of how humid the day is. The iComfort S30 Ultra Smart Thermostat even monitors the air quality and pollen levels. When these amounts rise, it turns on the fan as needed to clean the air, which brings relief to household members who suffer from respiratory issues.
2. The iComfort E30 Smart Thermostat
The iComfort E30 Smart Thermostat understands that your schedule, the weather, and the air quality in your neighborhood are always changing. It adjusts to these life changes in order to provide you with energy savings, comfort, and the peace of mind you dream of. Its Feels Like Setting, Allergen Defender, and Humidity Control make it one of Lennox's most versatile thermostats. Once you set it to your ideal temperature, it automatically adjusts your heating and cooling system to maintain a steady level of comfort.
This thermostat provides energy savings with its Smart Away Mode, Scheduled IQ Technology, and One Touch Away Mode. It even gives you historical data on your heating and cooling system's operation and performance.
You can schedule your iComfort E30 Smart Thermostat from anywhere by using the IComfort App. It'll help you make plans by offering a seven-day weather forecast for your local area. The 7-inch HD color display is easy to read and uses touchscreen technology. If any maintenance is needed, it'll send you an email alert, and it automatically updates with the latest software.
3. The iComfort Wi-Fi Touchscreen Thermostat
The iComfort Wi-Fi Touchscreen Thermostat allows you to control your home's heating and cooling from anywhere. It gives you the highest level of comfort available from Lennox. It includes several great features like the One-Touch Away Mode that helps you save energy when you're not at home. It gives you local weather updates as well so that you're never surprised.
The intuitive touchscreen makes this thermostat easy to use, and the iComfort App allows you to use your smartphone, laptop, or tablet to change the temperature. When paired with Lennox equipment, this thermostat effortlessly communicates with your heating and cooling system. It optimizes your home's energy use while maintaining your temperature to within 0.5 degrees of where you set it.
On the display screen, you'll find several conveniences. The screen is bright and easy to read, and it operates with a simple touch. The One Touch Away Mode reduces the heating and cooling system's energy consumption when you leave home. The screen displays a five-day forecast and weather alerts. You can even use the screen-saver feature to upload a family photo for a truly customized piece.
4. Comfortsense 7500 Series
The Comfortsense 7500 Series has customizable settings for each day of the week. This allows you to control your heating and cooling system around your personal schedule. It includes the Lennox One-Touch Away Mode, along with automated changeover. This feature allows the thermostat to decide whether to heat or cool according to your home's temperature. It gives you energy reports that allow you to compare monthly usage. That way, you can make adjustments to your settings that will save energy. You'll also find that it provides filter, service, and part replacement reminders.
The advanced control settings let you save a setback temperature. This is used when you're away from home in order to save more energy. The best part of this is that it returns the settings to a comfortable level before you come home.
Additional features include Duel-Fuel. It increases the efficiency of duel fuel heating systems by alternating between gas and electricity for the best results. The Humidity Control is compatible with your whole-home humidity control system and automatically adjusts the humidity level within the house.
5. The ComfortSense 5500 Series
The ComfortSense 5500 Series is similar to the ComfortSense 7500 Series in many ways. Just like the 7500 series, the 5500 series allows you to select a setback temperature that'll save you energy while you away from home. The temperature is then returned to normal before you arrive back home. One-Touch Away Mode helps you control your energy usage so that your utility bills are more affordable. The energy reports it provides will compare your monthly heating and cooling usage so that you can make additional changes to save even more money on your energy bills. The full-color touchscreen has adjustable brightness and blends in nicely with any home decor.
This thermostat also works with most HVAC systems, just like the ComfortSense 7500 Series. Both thermostats remind you of routine maintenance issues and offer auto changes that automatically switch between heating and cooling.
The biggest differences between the ComfortSense 5500 Series and the 7500 are that the 5500 doesn't have the duel-fuel capability, and it won't work with your whole-home humidity control system.
Contact Us Today
Custom Comfort Air has been offering heating and cooling services to the Houston, TX area since 1969. We're family-owned and -operated, and our friendly staff and certified technicians are here to help with all of your HVAC system installations, repairs, and routine maintenance. We are a Lennox Premiere Dealer and have won the Better Business Bureau's award of excellence for 13 years in a row. Whether we are installing a smart Wi-Fi thermostat in your home, helping you with your air quality, or working on your heating and cooling, we back up our work with a 100% satisfaction guarantee. Call Custom Comfort Air today to learn more about smart Wi-Fi thermostats and all of our other products and services.