How to Protect Your HVAC System From Texas Storms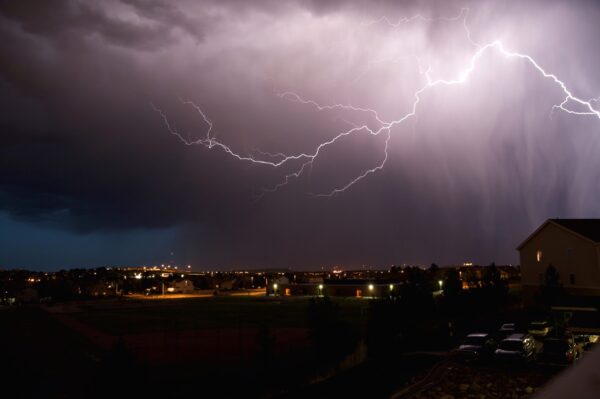 The average Texas Storm can take a toll on your home. These storms can lead to high winds, heavy rains, and hail in some instances. When these events occur, they disrupt the routine life we're all accustomed to and can cause significant damage to HVAC systems. Therefore, you need to take appropriate precautions to prevent damage not only to your home but to your HVAC system.
To help you make it through the storm season safely and with the least amount of damage to your HVAC system, we have gathered some information that will serve as a helpful guide. While every storm is different, the following tips will help you better handle the worst weather that Texas storms can throw at you year-round.
Keep Your HVAC System Covered
One of the best ways to protect your HVAC system is to look out for the units that are exposed to extreme weather. Everything from rain and snow to wind can cause considerable damage to the outdoor units of your system, and covering them is your first line of defense. By covering the unit, you will prevent debris like hail, dirt, twigs, and leaves from getting in the vents or air ducts and causing more significant problems.
If you choose to cover them with a tarp, make sure that the covering is firmly secured so that it doesn't blow away during high winds or rains. When it comes to choosing the right-size tarp, you want to make sure you've left an opening for ventilation. This helps ensure that moisture doesn't get trapped under the tarp. Trapped moisture can cause significant damage to your HVAC system. Additionally, you should also cut off the HVAC unit's power so you don't intensify the moisture levels with the cover on it.
Limit the Use of HVAC System
In severe storm conditions, it's best to limit the use of your HVAC system as much as possible. In some instances, it's even better to shut it down and unplug it until the storm is over. When the system is being used, it can experience irrevocable damage due to disruptions in the power supply caused by power outages.
If you receive any storm warnings or alerts about bad weather, it's best to turn off the HVAC system completely by cutting the power from the main breaker. This minimizes the risk of any power-related mishap on the unit. Alternatively, you can get a professional HVAC company to install a protector at your circuit breaker box that will automatically power down the HVAC unit in case of power surges related to weather.
Keep the Area Clear
To avoid HVAC damage during storms, you should make sure to keep the area around your outdoor units clear. Any objects like tools, furniture, toys, or other similar things should be securely put away in a shed or garage because they can easily be blown away by high winds. If large objects hit your HVAC system, they may cause significant damage to your unit. In addition to making sure your area is clear, be sure to check the area on a regular basis after storms. If you notice any debris, clean it up as soon as possible.
Manage Your Home's HVAC Needs in Advance
There's a high probability that your home could lose power during a severe Texas storm. In planning for a power outage, you should start cooling or heating your home in advance based on the temperature you want to keep throughout the storm and after the storm.
You will most likely experience hours or days without heat for winter storms. Therefore, you should heat your home in advance to ensure that your home remains at a safe temperature when the power goes out. You are likely to experience a heatwave afterward for summer storms, so it's best to cool your home before the storm.
Damage Control in Case of Flooding
As a precautionary measure, install your outdoor HVAC unit on an elevated platform to stay dry and avoid flooding if torrential rains hit your area. Additionally, keep the ground around your unit free of any debris because these small objects can easily be carried in by a flood and cause damage to your unit.
Protect the Exposed Wires
In severe storm conditions, your HVAC unit is susceptible to short-circuiting incidents because of the wires that might be exposed to temperature and weather changes. If you notice any wires between your outdoor units and your home, inspect them and ensure they are properly covered and insulated to prevent short-circuiting during the harsh weather. You should contact professional HVAC service technicians about this because they might know the best way to protect your wiring.
Getting the Right Help
Even while taking these preventive measures, it's best to get the right assistance from a professional HVAC service provider. You need someone who knows the best way to apply the measures in advance and take care of emergency situations. Ideally, you want a company that will ensure you receive emergency help whenever you need it.
A professional HVAC service provider ensures that you get the best protection for your HVAC unit so that it stays safe and operational no matter what the weather brings. You should expect to save on costly repairs and additional maintenance costs in the long run.
Your Dependable HVAC Team
Custom Comfort Air is a family-owned local business serving Sugar Land, TX and the surrounding communities since 1969. We offer a wide range of HVAC services to ensure you always have a comfortable winter or summer. Our team will keep your air conditioning, heating, and ventilation system working properly for many years, from installation to repair.
Our company is BBB accredited, which means we are an industry leader and have been awarded high standards of professionalism, excellence, and accountability. We provide fast and reliable services to ensure a 100% satisfaction guarantee. You can rely on our certified technicians to identify any issues with your outdoor unit and provide a fast and affordable replacement to avoid paying a lot more in repairs and maintenance fees.
Additionally, we deal with the best products in the industry, which makes us more reliable. We're proud to be a Lennox Premier Dealer, so you can rest assured that Lennox's industry-leading warranties back every unit we install. Whether you live in Rosenberg, Richmond, Houston, Katy, Bellair, Sugar Land, and the surrounding areas, we guarantee you will get the best quality HVAC services.
We believe that the best way to serve our customers is by providing superior customer service. With our family-oriented culture, we understand the needs of our customers and provide the best solutions tailored to their requirements. Contact us today to schedule a service or request an estimate.